How to Shop Safely during Coronavirus
Should I wear a mask when I go shopping?

Is it safer to use the self-checkout?

Would it be better to get my groceries delivered?

Where can I find pasta? Or loo rolls? ​
So many questions. The struggle is real.
Most of us are well into weeks of lockdown by now. We've been told in no uncertain terms to stay at home. Self-isolate.
But then, there's the need to feed … especially if you have a house full of hungry people.
So how does one venture forth safely in this Twilight Zone to find supplies and keep your home brood fed and watered, with the least amount of risk to ourselves? 
Not sure who to attribute this to – but it's a meme circulating on WhatsApp that paints the picture perfectly (it's from the movie, The Hunger Games).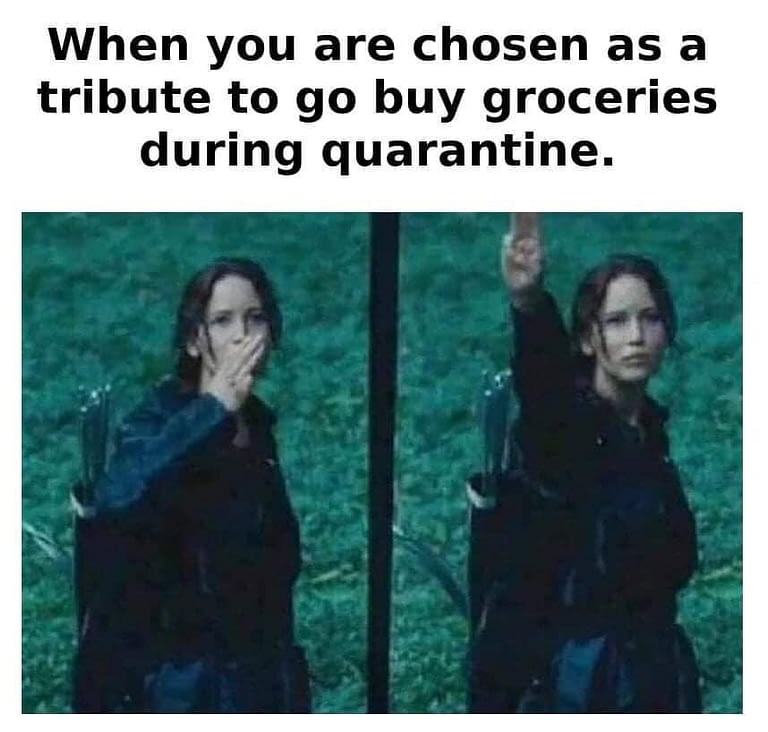 In a hurry? Take this shortcut to 11 tips to keep you safe while shopping:
Shopping has become a health hazard
It's getting scary out there. A visit to the shops used to be an irritating necessity but with a degree of fun and pleasure.
Now it feels like a venture into a war zone.
Keep your 2-metre distance at all times. Don't touch that trolley! Should you wear gloves? Or a facemask?
There's a lot of advice flooding our inbox, social media streams and chat apps. Most of it is confusing; some is downright contradictory.
So what is the truth? Or the myth?
We've delved deep to come up with some common-sense advice and expert opinions which we hope will help to steer you safely through these uncertain waters.
Which UK stores are offering what options?
Tesco is offering home deliveries and click and collect options. Aldi, unfortunately, doesn't offer online shopping on their grocery range (yet). Waitrose, Asda and Iceland all offer deliveries.
However, you have a  snowflake's hope in hell of finding an open delivery slot in the foreseeable future, unless you're aged or considered vulnerable. Which makes perfect sense. Even the online-only, storeless Ocado is not taking on any new customers for now. 
So unless you're in a high-risk or vulnerable group, you'll need to put your big girl panties on and go to the stores in person. Just as it should be.
Let's keep those at risk as safe as we possibly can.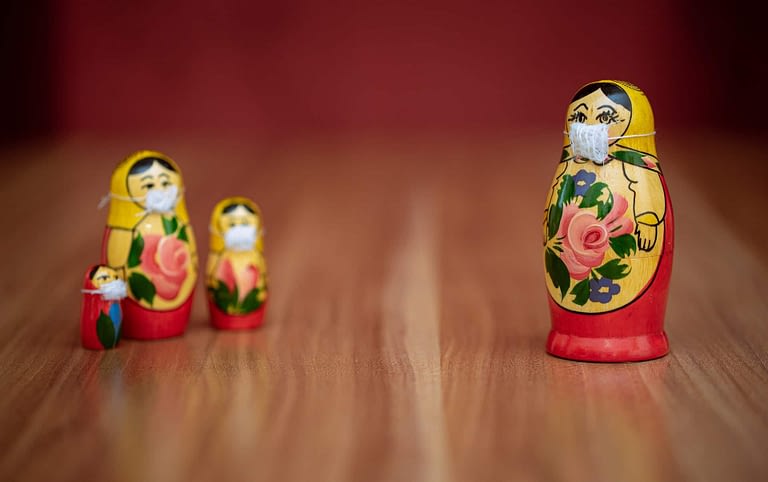 Times like these spur creativity
A local business has developed an app to connect people with shops in their area.
Suppliers can register their business, provide details on what fare they offer, their trading hours, delivery and collection options on offer as well as whether discounts are offered to key workers. Best of all, it's totally free.
What a great idea?  If you are one, or know of any local food suppliers, please ask them to add their details at no charge.
How to stay as safe as possible As You Shop
It may be possible to contract the virus through touching infected surfaces, but it's really not common. 
The major spread is via person-to-person which is exactly why the social distancing of at least two metres and regular, thorough hand washing are your best weapons. 
So be more afraid of coming into contact with people than with produce and packages.
Stay safe shopping with these 11 tips:
1. Shop as seldom as possible
Try and keep your shopping  down to the absolute minimum – once a week or, even better, every other week.
2. Shop when it's quieter
When you have to shop, try to choose off-peak times. Most stores have lifted the limits per item now and there is generally enough stock to go around.
3. Support shops showing responsibility
Many shops are restricting the number of shoppers allowed inside at once, and marking six feet distances at the checkouts; others have added plastic screens at the tills.
Many stores are supplying free trolley and hand wipes and disinfectants, doing what they can to keep both customers and their staff as safe as possible.
These stores deserve your custom.
You'll be more likely to get in and out as quickly as possible with less distraction.
Rather leave grandchildren and little ones at home. They can't help but touch and lick things with their innate curiosity.
5. Do the paper list thing
Firstly, a shopping list forces you to plan so you don't forget stuff (you can't just pop back later).
Secondly, the old-fashioned handwritten list is much safer than having it on your mobile phone.
This is one time where you really want to leave your phone behind. It lives so close to your face and hands at all other times and is a perfect germ incubator.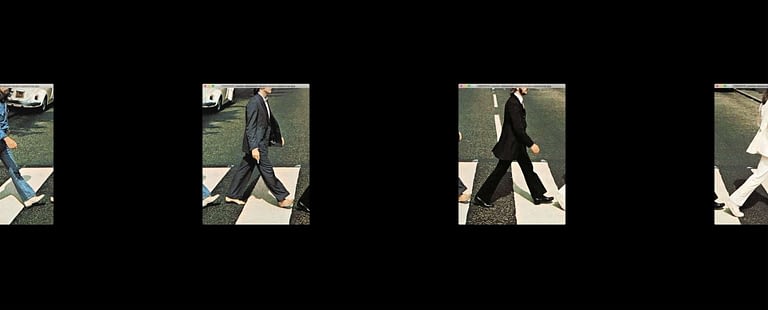 Stay at least the recommended distance away from anyone else – at least 6 feet or 2 metres. 
Avoid touching things as much as possible. Wipe down the trolley handle with disinfectant wipes. Better yet, wear some disposable or rubber gloves that you can disinfect or wipe down ready for the next shop. 
Don't be complacent though. Don't touch your face with your gloves on while you're out.
There is a movement to do home-made masks so as not to use up medical supply masks sorely needed by the NHS and other care workers.
At best, masks can give you some protection – and protect others from you if you are ill, with even a common cold.
At worst, they may help to stop you from touching your face.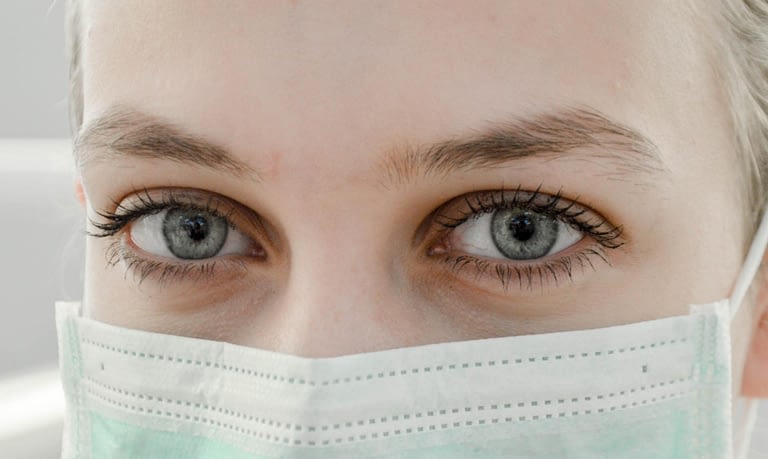 8. Use contactless to pay
Most banks have raised the contactless limit from £30 to £45 to help avoid touching surfaces at this time.
Using the self-service is good but again, you'll need to touch buttons, so it's not ideal. Wipe your hands with sanitiser immediately afterwards.
If your shopping bags are fabric, pop them in the washing machine.
If they're plastic, disinfect them after each shop when you get home with antibacterial wipes or spray.
Or simply leave them in a low-traffic place (like the garage) where no one will come into contact with them for a few days.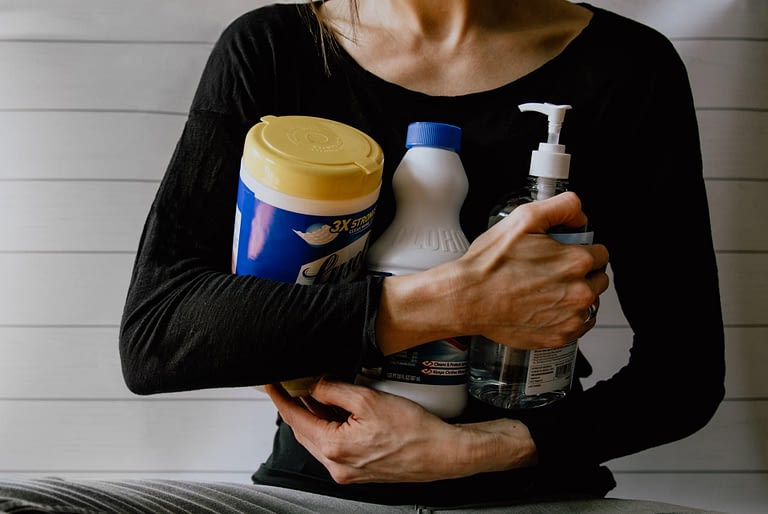 10. Sanitise when you get home
I've heard of some who strip naked in the cover of their garage as they return from shopping, pausing just long enough to throw their clothes in the washing machine before running for the shower. 
Yet others don't seem to phased by the whole process.
But, at the very least, it is vital to wash your hands when you get home and then again once you've packed the groceries away.
Some experts believe you should disinfect everything that comes into your home. 
The American National Institute of Health found that the coronavirus can live on hard surfaces, such as plastics and metal, for up to three days, and up to 24 hours on cardboard. 
So sanitising your groceries is a good way to keep your family safe.
That said, there is a caveat: 
"There's no evidence that COVID-19 is transmitted by objects like cans of food or reusable bags."
– Dr. Timothy Brewer, epidemiologist at UCLA.
Be careful, but don't be obsessive. This would be the best advice. 
Perhaps wipe down tins, cardboard and plastics with sanitising wipes or spray, if it makes you feel better or if you have someone vulnerable to protect. But it's far more important to wash your hands.
Even better,  keep your work surfaces clean and regularly disinfect and wipe down any high-traffic areas in your kitchen like your taps, sink, cupboard and fridge handles, light switches, phones and laptops, and so on.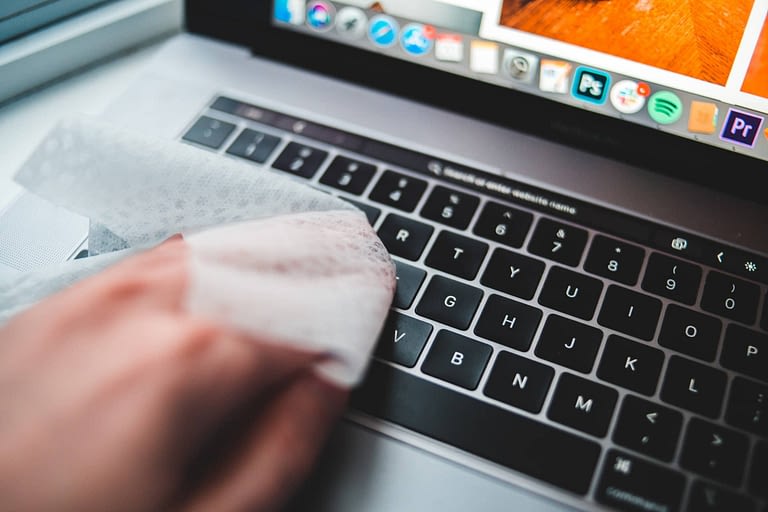 11. Take care with deliveries
If you have groceries or takeaways delivered, use the same caution as you would if you'd been out to collect them yourself. 
Get the delivery person to leave the goods outside your front door and stay six feet away from them at all times. Wash your hands and wipe the goods down with wipes or sanitise with a spray.
With takeaways, transfer them on to your own plates and microwave or oven-reheat. Heat kills viruses.
What are the ways you're keeping safe when you're out shopping? 
Is there something you find that works especially well for you?
Please let us know in the comments below.